Zelina Vega w/Andrade Cien Almas vs Lana w/Rusev

Lana drives Zelina Vega into the corner. Lana lands a few shoulder block. Vega decks Lana. Vega rolls out of the ring. Lana baseball slides Vega. Lana brings Vega back into the ring. Vega unleashes a flurry of strikes. Vega puts Lana in a rear chin lock. Vega slams Lana to the mat. Ax kick by Vega. Lana catches Vega with a knee followed by a snap suplex. Vega kicks out.

Lana drops multiple elbows on Vega. Running bulldog by Lana. Vega kicks out again. Lana suplexes Vega multiple times. Almas gets on the apron. Vega jawbreakers Lana. Rusev runs over Almas with a clothesline. Rusev sends Almas into the barricade. After a distraction by Vega, Almas attacks Rusev from behind. Lana goes up top. English runs down and tries to help Rusev but English sents Almas into Lana. Lana falls off the top. Vega hits Meteora for the win.

Winner- Zelina Vega

WWE Champion AJ Styles vs Andrade "Cien" Almas w/Zelina Vega

Almas takes Styles over with an arm drag. Styles goes behind Almas. Almas counters into another arm drag. Almas smacks Styles with a big elbow strike. Almas locks in a side headlock. Styles forces Almas into the corner. Almas kicks Styles in the gut. Almas goes back to the side headlock. Styles tries his patented dropkick but Almas goes tranquillo in the ropes. Vega joins him. Styles falls to the mat hard. After the break, Styles lands a basement elbow. Almas surprises Styles with a dropkick. Styles misses a spinning back fist. Almas chops Styles into oblivion. Almas lands ax and smash in the corner. Styles kicks out. Almas sits Styles on the top rope. Styles punches Almas in the face. Almas dropkicks Styles. Almas tries Meteora but Styles gets to his feet and lands the Ushigoroshi.

Styles tries the Phoenominal Forearm but Almas lands a spinning back elbow into Styles's knee. Styles falls to the mat. Almas tries a moonsault. Styles rolls out of the way. Almas lands on his feet and hits a standing moonsault. Styles kicks out! Styles surprises Almas with an enziguri. Almas kicks Styles in the gut. Almas sets up a reverse tornado DDT. Styles escapes and lands the Pelé kick. Styles goes up top. Almas pushes Styles into the tree of woe. Top rope double foot stomp by Almas! Meteroa for a near fall by Almas. Almas tries the HammerLock DDT. Styles reverses it into the Calf Crusher! Almas taps out.

Winner- AJ Styles

After the match, Almas stares at Styles and walks away.

Andrade "Cien" Almas w/Zelina Vega vs Sin Cara

Almas slaps the mess out of Sin Cara. Sin Cara takes Alams over with an arm drag. Almas sidesteps Sin Cara's suicide dive attempt. Sin Cara goes flying into the barricade. Almas bring Sin Cara back into the ring. Almas works over Sin Cara's injured arm. Sin Cara hits the ropes but runs right into a spinning back elbow by Almas. Sin Cara falls to the outside. Almas and Vega do the duel tranquillo pose. Almas bring Sin Cara back into the ring. Almas puts Sin Cara in an armbar. Alams misses a diving elbow in the corner. Sin Cara and Almas trade strikes. Sin Cara catches Alams with a springboard splash and a springboard moonsault. Head scissor DDT by Sin Cara. Almas kicks out. Almas reverses a suplex attempt.

Almas goes up top. Sin Cara boots Almas in the face. Sin Cara sets up a suplex to the outside. Almas counters and almost hits a diving foot stomp. Sin Cara tosses Almas off the top. Sin Cara tries a diving hurricanrana off the apron that ends badly. Both Sin Cara and Almas just fall to the mat. Sin Cara hits a frog splash. Vega gets on the apron to distract the referee. Almas dropkicks Sin Cara into the corner. Almas lands Meteora. Almas drops Sin Cara with the HammerLock DDT for the win.

Winner- Andrade "Cien" Almas

Sin Cara vs Andrade "Cien" Almas w/Zelina Vega
Cara sends Andrade out of the ring with a head scissors. Suicide dive by Cara. Cara sends Almas back into the ring. Almas trips Cara into the rope and hits ax and smash. After the break, Cara hits a springboard splash followed by a springboard moonsault. Head scissor DDT by Cara. Alms kicks out. Almas obliterates Cara with a spinning back elbow. Almas sets up the HammerLock DDT. Cara turns it into a pin. Almas kicks out. Cara dumps Almas to the outside. Diving hurricanrana by Cara. Cara tries a splash off the top but Almas gets his knees up. Almas hits a diving foot stomp off the top to the outside. Running Metora by Almas for the win.
Winner- Andrade "Cien" Almas

Andrade "Cien" Almas w/ Zelina Vega vs Jake Constantino
Almas destroys Constantino with a back elbow. Almas gets distracted congratulating himself. Constantino dropkicks Almas and goes for a cover. Almas kicks out. Almas almost chops Constantino in half. Almas hits Meteora followed by the Hammerlock DDT for the win.
Winner- Andrade "Cien" Almas
After the match, Vega says they were expecting more. Vega says they want more. They didn't come to Smackdown Live to play nice, they came to take over.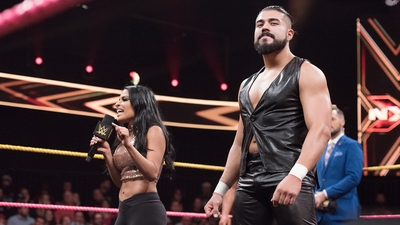 Drew McIntyre talks to the media as he exits the PC. As he gets into the interview, Zelina Vega interrupts and asks why Almas hasn't received his title contract yet. McIntyre says when Almas stares him eye-to-eye like Roderick Strong did, he'll agree to it. Until then, adios.

Almas w/ (Zelina Vega) vs Roderick

Before the match, Vega takes the mic for a promo. She says they've waited a week for a contract, but nothing yet. She notes you don't become as successful as her by being a patient woman. She runs down McIntyre and accuses the champ of ducking Almas. Strong's music hits and we get underway.

Counters and reversals rule the first few exchanges. They block each others' hip toss, then Strong catches Almas for the first of sure to be many back breakers. He follows up with a loud chop that Vega even shutters at. They make their way to the apron where Almas hits a knee and slings Strong down. Almas stands tall as we go to break.

We come back to a thunderous chop by Almas. Roddy gets back up to try and return the favor, but Almas catches him in an arm bar on the rope and breaks at four and a half. Almas in firm control now, stretching out the arm and shoulder of Strong. Strong fights out and hits an arm drag that sends El Idolo to a spill through the ropes. Almas back and it's a slugfest. Leapfrog into a leaping lariat by Strong to switch momentum. Pop-up gut buster by Strong. Goes for a corner attack and Almas gets a boot up. Strong catches Almas in the ropes this time with a stretch using the ropes as leverage. Almas subtly taps but not used since ropes are involved. Strong back on the apron and slams Almas' back as he drops him onto the hardest part of the ring. Almas counters a spot with a tornado DDT and gets a near fall. Strong misses a tiger driver, lands in the corner, and gets the double knees from Almas for a two. Almas looks for the hammerlock DDT, but Strong slips out. A pair of back elbows sets up for the running knees again, but Strong pops up for a high knee of his own. Strong on fire and ends with a wrecking ball drop kick. On his way back in the ring, Zelina Vega comes out of nowhere to hit a hurricanrana on Strong that sends him into the steel steps. Almas retrieves his prey, hits the DDT, and gets the win. What a spot. Good match.

After the match, Almas and Vega head to the announce table and grab a mic. Vega says Almas will meet McIntyre face-to-face next week to see if Drew is a man of his word.

Drew McIntrye is conducting interview when gets interrupted by Zelina Vega. She says Almas and McIntyre have a lot in common. She asks if he's been dodging Almas. Drew acknowledges she's good at her job, and reiterates he'll fight anyone, anytime, anywhere. If he really wants the match so bad, McIntyre says Almas needs to ask for it face to face.

Superstars like Zelina Vega, Angelo Dawkins, Peyton Royce and more show off their favorite hidden talents.

Andrade Almas (with Zelina Vega) vs Johnny Gargano

Both superstars have a physical back and forth match. At one point in the match Vega takes off her jacket and she reveals a DIY shirt. Gargano does not allow that to distract him, but Almas gets to the ropes. Vega gets on the apron and says something to Gargano. Gargano says DIY means nothing to him. Almas with an inside cradle for a near fall. Almas goes for a one arm power bomb but Gargano with a sunset flip for a near fall. Gargano wtih a super kick and he goes for La MIstica but Almas sends Gargano into the turnbuckles. Almas with the running double knee strike to the back and he does it a second time. Almas with the hammer lock DDT and he gets the three count.